Servicing LA & KC Areas
"Our clients stay with us for decades not years"
Founded by Sherry Lieberman (selected Member of the UMKC Bloch School of Marketing Advisory Board since 2010), who has had more than 30-years advertising experience. etc. advertising helps clients obtain the lowest possible media pricing and the most publicity ever!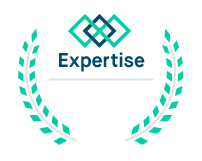 Best Advertising
Agencies in&l t;br>Kansas City
2016
AWARDS! AWARDS! AWARDS! WE GET THEM ALL THE TIME
Look it up! Etc. Advertising was just named one of Kansas City's Top 20 Advertising Agencies by Expertise.com… and WE'RE PROUD OF IT! Of course, the Expertise award isn't the only accolade we've won. We're "small", yet we've garnered first place honors for communication, creativity, graphic arts, radio, print and public relations. What can that mean for you??? We'll get you noticed. That's what!
Testimonials
"I have worked with etc. advertising for 8 years and Sherry (the owner) is a tremendous asset to our business. From knowing the advertising market to screening advertisers, etc. advertising does it all and is truly indispensable to us."

John Schafer,
Managing Partner
Sherry Lieberman and etc. advertising have been my ad agency for the past 10 plus years. I have enjoyed working with Sherry! She has great ideas and has an uncanny way to bring them all together! She has helped us with our TV ad campaigns and they have been very successful. She has put together many other promotions and PR campaigns as well. I enjoy our monthly updates because she seems to always bring me new ideas to get in front of our customers!

Steve Roellchen
Owner, President & CEO
"I've worked with Sherry for several years now and the service she provides our company is terrific. She is always accessible and returns calls promptly. The one thing I appreciate the most about working with Sherry is the great creative copy she prepares for our company's radio ads. Our spots are unique and get your attention... isn't that the idea? She actually encourages creative input from her clients and does not get upset if the client makes minor changes in the copy. She's just great to work with!"

Stuart Woodbury
Owner and CEO
Public Relations, Advertising, Marketing, Communications is the name of our game!